Enjoy A Good Sleep At Night And Wake Up Feeling Good, Full Of Energy!
Uncomfortable pillows keep you up all night, you fold, flip and fluff but never get that perfect support you have been searching for. Introducing SleepBudd™ All-Round Sleep Pillow – claims to be so comfortable and supportive that guarantees sound sleep every night.
Helps You Sleep Peacefully
The SleepBudd follows your spine's natural curvature, and the micro airballs respond to your weight and shape, giving you the support you need to sleep without pain.
Reduces muscle pain and headaches

Deal with snoring

Support all sleeping styles

Sleep on-the-go

A full night's sleep

Solves sleeping troubles
How It Works
If you're used to waking up feeling groggy, tired, and stiff after a bad night's sleep, SleepBudd Pillow could revolutionize your mornings.
SleepBudd not only supports – it molds to your unique shape, just like a custom pillow (at a fraction of the price). This means that however you like to sleep (back, side or stomach), you'll get the restful sleep you need.
SleepBudd™ customers find that muscle pain and tension are reduced, snoring improves and they're able to get up ready to face the day with a smile.
Creative Micro Airballs
The SleepBudd is filled with millions of micro air balls that allow the pillow to adjust to your head and neck in any sleeping position. The pillow will spring back to its original shape when not in use and be maintained even after several years!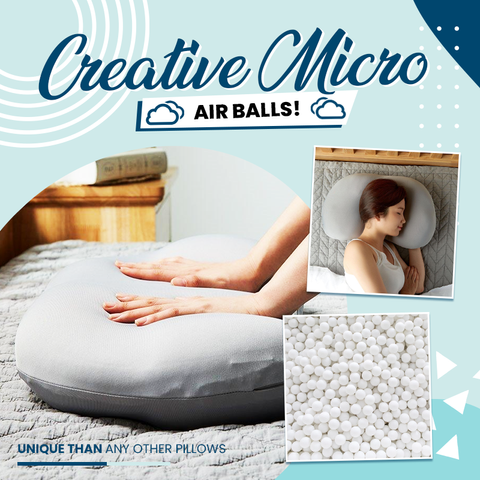 Feel Refreshed When Waking Up!
Feel refreshed when waking up! The Well Sleep Pillow is so well-ventilated that it won't make you hot or sweaty and it keeps your head dry while you sleep. You may not feel the urgent need to hurry to the shower and wash off excess sweat if that's something you normally do.
Standard Pillow VS SleepBudd Pillow
Standard pillows
Traditional pillows aren't built for support, meaning your spine ends up in an unnatural curve – often resulting in pain, discomfort, and poor-quality sleep.
SleepBudd Pillow
SleepBudd uses advanced micro airball technology to straighten and support your spine in its natural position, reducing pain and improving sleep.